One of the things that I love to do is to explore a new tool, and see how it can help me and my readers visualize the data that we deal with every day. Here are some of the tools that I use on a regular basis: Google Charts – a free tool that allows you to create attractive and interactive charts, without the need to learn any specific programming language.
If you are a marketer, you know that visualizing data is the key to success. The best way to do so is with data visualization, which is art form created by using Excel and PowerPoint to create interactive visual representations of data. It is easy to get overwhelmed by all the data visualization tools available, so we have listed ten of the best tools for creating visualizations.
Disclosure: This content is reader-supported, which means we may receive a commission if you click on some of our links.
The picture on the right immediately convinces the meeting room.
Sell a new client, get the approval of your boss and get the team behind you. Data visualization tools turn a jumble of numbers into a clear picture that speaks volumes.
With the right product, you can leverage a wealth of data to tell a clear and compelling story. Leave the audience with a visual that resonates long after the presentation is over.
In this article I will give a comprehensive overview of the best data visualization tools and tell you what to look out for when making your choice.
#1 – Tableau Review – The Best for Business
Tableau is a leading business intelligence (BI) software with phenomenal data visualization capabilities. It's not the cheapest option on the market, but you get both an intuitive interface and the ability to dive into almost any data source.
In other words: You don't have to make the usual sacrifices. Tableau is very powerful in terms of visualizations supported, but it's very easy to use once you get it set up.
Unlike many other powerful data visualization programs, users do not need help to learn and analyze on their own.
Mid-level and senior managers are well versed in Tableau. And thanks to the pricing structure, adding these users is not expensive at all.
Many companies are choosing to use Tableau to foster a collaborative, data-driven and transparent culture. It is also one of the most secure products on the market, with enterprise-level management tools and local deployment capabilities.
Overall, Tableau can do the same thing as any other data visualization tool, only better. Here are some of the key features:
Combine different data sources without writing code
Preparation and storage of statistical analyses, forecasts and trend lines.
Optimization of the dashboard for all screen sizes
Natural language queries on any published data source
Data analysis based on artificial intelligence
Publish data sources to Tableau Server as encrypted fragments
Robust data management tools
Support and solutions from an active community of over one million users
Tableau for Teams pricing is role-based, so large organizations can save on subscriptions. With stars:
Creator: $70 user/month
Explorer: $35 user/month, minimum 5 users ($42 if fully hosted in Tableau)
Viewer: $12 user/month, minimum 100 users
Creators have full copyright/publication rights and can add new data sources and topics. Researchers can work with most existing resources and create their own visualizations. Viewers can interact with the data and collaborate with their peers, but they cannot create or prepare data.
Tableau Public is a free, permanent version of the product, and the company offers a 14-day free trial that lets you try out some of the premium features.
#2 – Infographic overview – the best for collaboration
Infogram is an intuitive data visualization tool that lets you create stunning reports, slides, dashboards and visualizations for social media.
Beginners will be pleased with the user interface. Almost all visualization constructions can be performed by drag and drop.
This is not one of those tools that you have to hire a software developer to maintain. Anyone can get started with Infogram right away and turn raw statistical data into beautiful infographics and engaging visualizations.
Infogram makes it easy for teams to share information and create consistent work through custom templates, role-based permissions, and file version control.
You can see in real time who is working on your projects and add comments directly on the infographic image.
Teams can quickly get started with Infogram by using its incredibly deep design capabilities: :
1 million stock images and icons, plus animations, GIFs and videos
More than 35 interactive diagrams and more than 550 interactive maps
Pre-installed and customizable brand themes
Data integration with Google Analytics, Amazon Redshift, OneDrive, MySQL, Oracle, etc.
JSON channel for real-time data input
WordPress plugin
The optimized features don't stop there. Tasks such as. B. Integration projects require nothing more than copying and pasting the integration codes into your CMS.
Infographics can be extremely useful for businesses of all sizes. In addition to the free, unlimited version, Infogram offers several price tiers:
For: $19/month for a single person
Business: $67/month for a single person
The Team: $149/month for 3 users
Company: Contact the sales department
Team and Enterprise subscriptions allow you to invite members, set flexible permissions, share projects and collaborate in real time.
Fill out your details, get the information you need and start publishing quality content by the end of the week.
#3 – Plecto rating – best for sales departments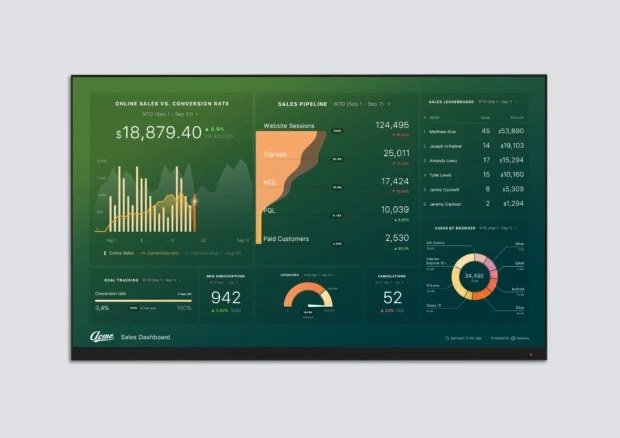 Plecto is a great tool for fostering a data-driven team culture. The idea is to engage everyone in a constant flow of data by providing all relevant KPIs in real-time on a highly visible dashboard.
Many other instruments can do this. It is through gamification that Plecto really stands out.
Gamification? Yes, it's a word, and it's very relevant these days. With Plecto, it's very easy to create contests that use your KPIs as benchmarks. It could be sales, recruiting, lists – whatever you need to implement, use Plecto to create a competitive spirit.
Plecto was designed for this. It is easy to set goals and achievements that are directly related to the parameters you are interested in. Increase transparency and motivation at the same time.
The platform's features are great for sales teams, but other departments within an organization can also benefit from some unique features and capabilities:
Unlimited dashboards and data sources
Adjusted key performance indicators
Display multiple dashboards on one screen
Integration with Microsoft SQL, Oracle SQL, PostgreSQL and MySQL
Notifications based on thresholds and other milestones
One-click integration with over 60 leading cloud services
Create and monitor individual performance agreements in the personal dashboards of employees and managers
There are three Plecto rate options:
Medium: starting at $200 per month for 10 licenses, $20 per month for an additional license
Large: starting at $350 per month for 10 licenses, $20 per month for an additional license
Company: Sales per contact, at least 100 licenses
Some of the important data visualization tools (e.g. SQL integration) are not included in the Medium plan. You only need to purchase licenses for users who submit their data to Plecto (users who only view the data are free).
#4 – Datawrapper at a glance – the best do-it-yourself tool for data visualization
Datawrapper is a simple graphics tool, but it can create interactive and responsive charts, maps and tables.
It's not so much about BI as it is about mass producing higher level data visualizations to draw attention to ribbons and pages.
Many companies, such as the New York Times, use data wrappers daily to enhance their content. Through vivid visuals, the Times can convey complex ideas about voting data, consumer preferences, etc. to consumers.
Datawrapper has a clean and intuitive user interface that makes it easy to work with the full functionality of the cloud-based product:
Copy data from Excel, spreadsheets or the Internet into Datawrapper
Create updated charts in real time by uploading CSV/XLS files or pointing to a URL.
Integrate different types of interactive and responsive charts, maps and tables.
Export in PNG, PDF or SVG format
Color rendition control for all images
Expandable graphics for maps
Collaboration tools and shared team files
Installation on site in accordance with legal requirements
To create custom graphics and white-label projects, you must purchase premium plans. Custom, the first level above free, starts at $599 per month and allows businesses to reach their audience with original and branded images.
The free version of Datawrapper is ideal for internal or team use, but less attractive for public display.
#5 – Highcharts review – the best for interactive visualizations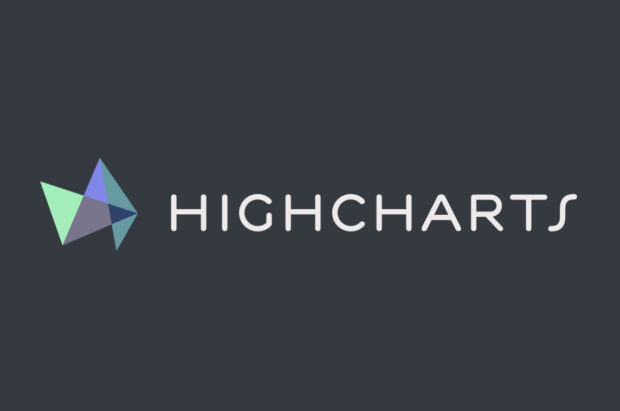 Highcharts is a great tool that helps developers add interactive graphics to web and mobile projects. It is a clean, SVG-based, cross-platform JavaScript graphics library.
Load different types of data and use the official wrappers to work:
Microsoft .Net
Python
PHP
R
iOS and Android
Some technical knowledge is required to use this product effectively, but the upside is that it is relatively inexpensive and works with any database or stack.
And the results are phenomenal.
Highcharts is scalable, upgradeable and designed to work anywhere and on any device. Here are some of the key features:
Different types of maps (heat map, line map, tile map, etc.)
Special product Highcharts Gannt
Export from JPG, PDF, PNG or SVG
Add textual information to the tooltip when the mouse pointer is moved over labeled data points.
Pure JavaScript does not require client-side plugins.
Intuitive configuration and editing of diagrams
Mobile and touch screen optimization for a truly interactive user experience
Download, verify and modify the source code of Highcharts.
All Highcharts products are available free of charge to private, charitable and non-profit organizations. These are Highchart Stock, Gantt, Maps, Editor and Mobile.
There are also offers for startups and opportunities for other businesses to customize different Highcharts products to their needs. Contact your sales team to set up a pricing plan.
What I was looking for to find better data visualization tools
I've got it. There are millions of tools to help you visualize the data.
Then, as you begin to dig, the question arises: Wait, do I need to know different programming languages to use this really cool product?
Take it easy. Don't worry about it. You don't have to go back to school to create great data visualizations.
Some of the more expensive tools require some computer knowledge, but they are for companies that have a budget for them.
If this isn't what you're looking for, don't worry. There are some very good data visualization tools that a non-specialist can use for lunch.
The key is to know what you want from a data visualization tool.
Once you know your local requirements, you can quickly narrow down your options by reviewing the key elements of your data visualization products.
Viewing options
Looking for a great tool to create smooth reports or a platform to publish interactive dashboards?
Every vendor has examples of data visualization on their website. Look at them and really think about your gut reaction.
If you're looking for a wow factor, don't stop until you find something that adds an aesthetic touch to your presentations.
Communication
This is probably the most important factor on the list of success or failure factors: What types of data and what data sources are supported by the data visualization tool?
No data visualization tool is powerful enough to justify a mass migration. You need to find something that connects to your data, wherever it is.
Ideally, data connectivity is a simple, secure and visible process.
Look for products that clearly explain how to manage and connect data sources. Formal partnerships with the database products you use are a big plus.
Check out some reviews to see if the connectivity options are really as good as claimed. Also, be sure to coach your sales team during the desired rollout to ensure everything works as planned.
Qualification requirements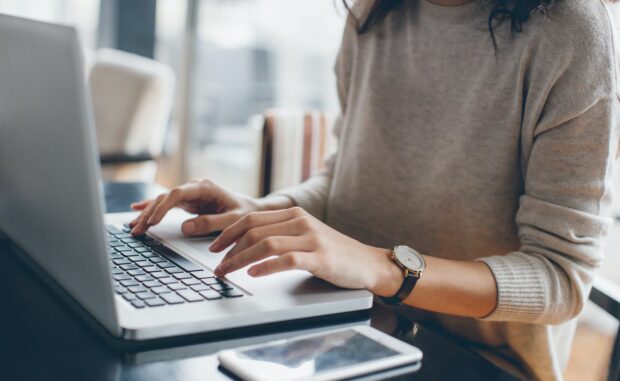 Not so long ago, visualizing complex data required knowledge of structured query language (SQL), Python or another language.
Today, excellent data visualization products, such as Tableau, allow users to search massive databases using natural language. They offer drag-and-drop functionality that allows even non-experts to solve the most complex problems.
However, if you have complex data streams flowing into your dashboards in real time, it's good to have someone to make sure everything is working properly.
Compatibility with mobile devices
Look for something that will please your customers and buyers, regardless of the product they are looking at.
Does your data visualization tool support touch and multi-touch operation?
Good interactive visualizations take a lot of effort, and the last thing you want is for iOS or Android users to be unable to use them due to incompatibility.
Quality data visualization software provides a final design that looks good on a desktop, tablet or smartphone. Unless you plan to develop visual content for internal use.
Another thing to think about is collaboration. Can your remote and mobile workers keep track of their team's projects?
Summary
Choosing the most appropriate data visualization tool depends on what you are trying to do and the type of business data you want to visualize. Let's take a look at my top picks:
Table – the best for business
Infogramme – more suitable for collaborative work
Plecto – The best for sales teams
Datawrapper – the best DIY visualization tool
Highcharts – the best for interactive visualizations
Tableau is the best tool for businesses because it gives teams an edge in all aspects of data visualization.
However, this is a significant investment, and not all companies are looking for a complete business intelligence solution.
If you need a data visualization tool to create and share memorable images, Infogram can help your teams take this to the next level without graphic design or programming skills.
For companies looking to integrate interactive visualizations into their online content, Datawrapper is worth a look. Highcharts is another good option for integrating interactive content into your websites, although it is not as easy as Datawrapper for the non-expert.
Getting back to Tableau, yes, it's hard, but you can try out the free version today without going through the multi-step internal registration process. There are no hurdles to overcome here, just the ability to take data visualization to the next level.
SEO – Unlocks a large amount of SEO traffic. To see real results.
Content marketing – our team creates epic content that gets shared, attracting links and traffic.
Paid media – effective paid strategies with a clear return on investment.
Frequently Asked Questions
What are the major visualization tools used in data analytics?
The major visualization tools used in data analytics are: – Tableau – Microsoft Power BI – QlikView – Tableau Public – Microsoft Excel – Microsoft Power BI Desktop – Microsoft Power BI Embedded – Microsoft Excel Online – Microsoft Power BI Desktop Online – Microsoft Excel Online Embedded – Microsoft Power BI Embedded Online – Microsoft Excel Online Desktop – Microsoft Power BI Desktop Online Desktop – Microsoft Power BI Embedded Online Desktop – Microsoft Excel Online Mobile – Microsoft Power BI Desktop Online Mobile – Microsoft Excel Online Mobile Embedded – Microsoft Power BI Desktop Online Mobile
How do I choose the right data visualization?
There are many different types of data visualizations. Some are better for certain types of data, while others work better with other types. For example, a pie chart is good for showing percentages and comparing the size of different parts of a whole. A bar graph is good for showing trends over time or comparing two sets of numbers side by side. How do I make a data visualization? There are many different ways to create a data visualization. Some people use Excel, while others use specialized software like Tableau or QlikView.
What are data Visualisation tools?
Data Visualisation tools are software that allow users to create and share interactive visualisations of data.